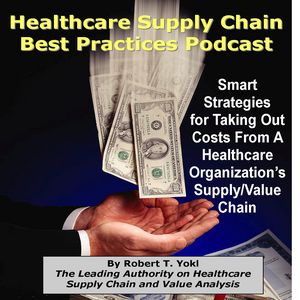 Monday, June 04, 2007 3:53 PM
A Proven Business Model to Leading A Successful Supply Chain Savings Program– This is a replay of a teleseminar that we recorded last year that was a special roundtable discussion with a university teaching client of ours supply chain management leadership. We thought it would be great to bring this one back to the podcast this week and most importantly you will hear information from an organization that is talking the saving talk and walking the saving walk.
This episode is packed with informative strategies, methods and tools that you and your healthcare organization can employ today. We will show you how you too can enhance your supply saving strategies and systems while spending the least amount of time and money in the process. Plus we will go over our key's to becoming better organized to save which in turn will allow you to overcome the roadblocks and barriers that have been holding back savings in the past.
Podcast: Play in new window | Download (Duration: 1:04:30 — 59.1MB) | Embed