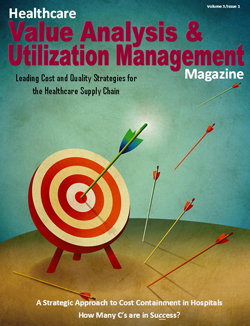 Robert W. Yokl
You may have noticed on the cover of this issue that we have expanded the name of Healthcare Value Analysis Magazine to "Healthcare Value Analysis and Utilization Management Magazine." If you are a reader of our past issues you notice that value analysis and utilization management practices intersect in so many ways that we decided to change our name to include utilization management as part of our magazine's major focus.
Why the Expanded Focus?
What we have learned in our industry is that Value Analysis is a great tool and system for reducing costs in many different ways following the classic tenets of value analysis functional evaluations. But what we have found is that the value analysis teams, committees, and initiatives need to have fuel for their engines beyond contracts and new product requests. Where utilization management comes into play in that part of VA's new role is to help manage the quality, waste, and inefficient use of products along with making sure that you have the right product for the right customer every time.
Utilization Complements VA and Vice Versa
Traditionally, value analysis teams start off focusing on a lot of low hanging fruit and have a considerable amount of success with their quality and savings initiatives. But once a program matures and the low hanging fruit is no longer there, we have seen many value analysis teams struggle to get good quality and savings initiatives in place. Brainstorming for ideas and polling members is not really a systematic way for teams to operate and often does not generate the best candidates. Questionable value analysis study candidates can result in lost time and many dry holes which zap the momentum and savings and quality potential of the team. Utilization management is a natural extension for value analysis teams but more importantly it gives a long term funnel of utilization misalignments that are costing hospitals big dollars and which can now be used to generate valid value analysis studies.
We look forward to writing so much more about all of the added cost and quality potential between value analysis and utilization management for our readers.