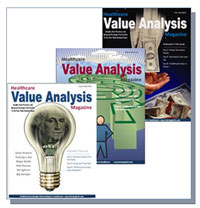 From the Publisher's Desk
Is Value Analysis a Fad or a Force in Healthcare?
If you have worked in healthcare for any period of time, then you have heard of the term value analysis. It has become shorthand for savings and quality improvement at most hospitals, systems and IDNs, but is it a fad or a force in healthcare? Well, we are betting our reputation with the launch of the Healthcare Value Analysis Magazine that it is a force in healthcare that will grow even stronger over the next few years.
So much so, that we believe that a magazine dedicated to this maturing discipline is long overdue. That's what this new magazine is all about! At least quarterly (more often if we get a positive response from our readership) we will provide insights, best practices, advanced strategies, techniques and trends in value analysis that you can apply immediately to your own supply value analysis program.
As we look to the future, our goal for this magazine is to evolve, as the value analysis profession evolves, into a leader of value analysis knowledge resource that can be depended on for its clarity, accuracy and innovation. In doing so, we invite our value analysis community to submit articles for publication, provide news releases for distribution and write letters to our editors with counter points or elaborations on their experience at their hospital, system or IDN.
It is our hope that you, as value analysis professionals, will see this magazine as your voice and feedback mechanism to further improve your own supply value analysis program as we enter into the new healthcare economy that is upon us.